The mud volcano capital of the world
(CNN) — Stretching to the horizon, the gray-white earth rises in peaks like a well-whipped meringue petrified into mud and rock.
A keen wind whips these otherworldly hills, while the land underfoot is cracked and scaly.
This could be Mars. But it's 
Azerbaijan
, the mud volcano capital of the world.
Oil-rich region
There are more than 400 volcanoes in this oil-rich country balanced between Europe and Asia, with more being discovered all the time.
Ten years ago, a 12,000-hectare State Nature Reserve was founded on the Absheron Peninsula near the capital Baku.
In July 2018, scientists from Azerbaijan's Ministry of Ecology and Natural Resources took 
CNN Travel
 on an off-road tour.
Clattering up the precipitous slopes in an off-road vehicle is like a firmer version of the dune-bashing safaris popular next door in the Middle East. But the most thrilling sights are still to come.
We start our tour beside the mouth of Deveboynu volcano, or "Neck of the Camel." The land around is parched, but inside the crater, a muddy slurry — called mud breccia — is bubbling gently.
The hills may look peaceful, but below this humped, reptilian landscape, the Earth is breathing and turning like a slumbering beast.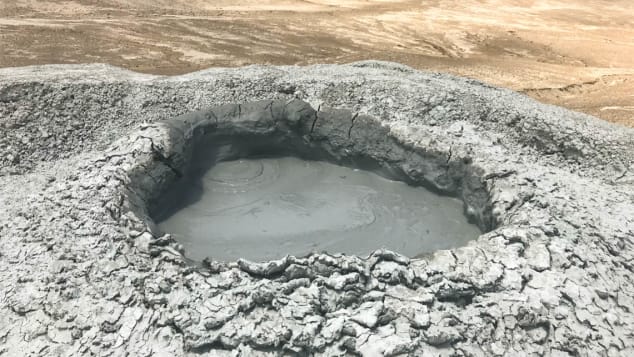 Where tectonic plates collide
Mud volcanoes are usually found in subduction zones — the parts of the globe where tectonic plates collide, sometimes causing earthquakes, tsunamis and violent eruptions.
Pockets of subterranean gas force their way to the surface, belching out methane and a muddy mix of water and oil.
Mud volcanoes never grow to the size of regular volcanoes. Most are small, ever-changing landforms, often accompanied by peculiar sculptures formed by the spewed out clumps of clay.
These whimsical shapes, says Jeyhun Pashayev, director of the reserve, are "like a picture made by a child."
Strange beauty
"When there are mud volcanoes, it means there are carbohydrogen resources in the deep," explains Pashayev. "As you see, there are lot of mud volcanoes in Azerbaijan which means there are a lot of oil resources."
The arid lands of the Absheron Peninsula might not be as fresh and lush as the mountainous north, but they have their own strange beauty.
This is the region richest in natural resources: both for oil and for the mud breccia, which is used in the chemical and construction industries.
"About 20 of the 50 minerals used in cement" are to be found in the volcanic mud, says Pashayev — which meant that before the reserve was signed into existence, people regularly stole mud from the site for home building projects.
As we set out on the road again to our next volcanic field, Pashayev gestures towards a huge factory on the horizon, with a large hill of mud to its side. "This, Garadagh, is the richest part of Baku. Around 90% of the stones are being produced here for building the houses. Depending on the quality, it costs from 50 cents to 3 manats ($1.77) per stone."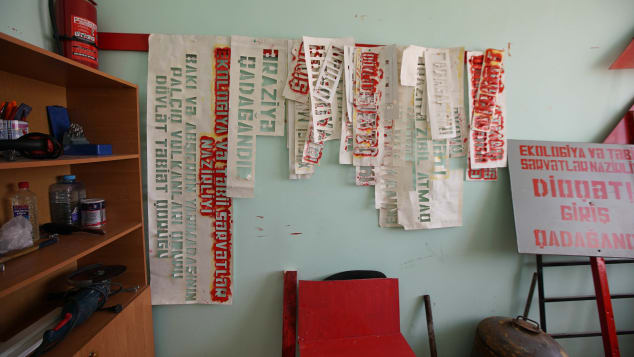 Maureen O'Hare/CNN
Laza, the land of waterfalls – Photo Gallery
Originally published by Caucasian Knot
The Azerbaijani village of Laza, about 200 km from the capital, Baku, is situated on a high-altitude plateau, Shah Yaylag. At the end of March when the snow starts to melt, tourists flock to Laza to see the waterfalls for which the area is famous. The locals, who are mostly ethnic Lezgins, earn a living by renting out cottages to tourists and offering visitors transportation in all-terrain vehicles in the winter.
Azeri Times presents this photo essay from Laza by Aziz Karimov, republished from Caucasian Knot.
Opposition activist sentenced to 6 years in Azerbaijan
On 18 September, the Baku Court for Serious Crimes sentenced a member of the youth committee of the opposition Popular Front of Azerbaijan Party (PFAP), Orkhan Bakhishli, to six years in prison.
Bakhishli was detained by men in plain clothes in downtown Baku on the evening of 7 May. On 10 May, the Yasamal District Court in Baku charged the youth activist with drug possession and ordered his detention for four months.
The PFAP has claimed that the charges against Bakhishli are trumped up and politically motivated. Several days before his arrest, on 3 May at a World Press Freedom Day event at the grave of journalist Elmar Huseynov, who was shot and killed in 2005, Bakhishli accused the Azerbaijani government of Huseynov's murder.
Human rights activists consider Bakhishli a political prisoner. Previously, he served 30 days of administrative detention after being arrested ahead of a 31 March opposition rally.
In recent years, activists Ahsan Nuruzadeh, Murad Adilov, Bayram Mammadov, Giyas Ibrahimov, Elgiz Gahramanov, blogger Rashad Ramazanov and others have also been jailed on charges of drug possession.
Azerbaijan a year after the LGBT raids: has anything changed in Europe's most homophobic country?
Azerbaijani society has never been tolerant toward sexual minorities, but no one expected the cruel and large-scale violence that occurred last year. At least a hundred people were humiliated, beaten and raped. People who were suspected of being gay were blackmailed and warned not to walk in the central streets of Baku. Meydan TV investigated the possible reasons for the police violence immediately after it happened last year and we now return to this topic to find out what has changed in Azerbaijan over the past year.
I felt like I had done something terrible
"I was absolutely desperate. I was leading a repulsive life: I drank a lot, I used drugs," Ali recalls September 2017 (all names have been changed). He says that the "repulsive" life he led seemed to help him forget what he had experienced for a while: like many other gay Azeris, Ali was detained in a surprise raid in downtown Baku. He spent several days at a police station. It still is not easy for him to talk about what he experienced – in response to every questions he says that many people, for example, transgender people, had an even harder time than he did. "Not only did they call them the filthiest words and beat them, they also shaved their heads, which was the most humiliating thing for them," Ali says.
Ali had never advertised his sexuality but it became obvious for people around him after police detained him. "I felt like I had done something terrible and that I was persecuted for it. My landlord kicked me out of the apartment I was renting, and my friends and loved ones turned away from me," Ali recalls.
Ali gradually did manage to return to normal life – there were kind people who helped him while he was looking for a job. Unlike Ali, another gay man who was detained, Murad, had a certain amount of money which helped him flee the country. Murad left immediately after he was released from the police station and now lives in Turkey: "I wanted to move to Norway, but I was denied a visa."
Murad has not been successful in finding a job and it seems he will have to go back home soon. "Of course I'm afraid, of course I don't want to go back. I'd stay here if I could. At least there's an LGBT community in Turkey, and they help each other," Murad says.
Four brave lawyers
According to official statistics, police detained 83 people during the LGBT raids in Baku in September 2017.
"Thirty-three people filed lawsuits for illegal arrest and cruel treatment after they were released," said Gulnara Mehdiyeva, a representative of the human rights organization Minority Azerbaijan and a member of the local LGBT alliance Nefes (Breath). Gulnara says that apart from physical and moral damages, those detained also incurred material damages:
"They were jailed for different terms, some for 10 or 15 days and some for 20 or 30 days. Many lost their jobs because their employers refused to take them back after their long absence," Gulnara Mehdiyeva says.
Four lawyers agreed to defend the rights of the LGBT people affected. One of them, Samad Rahimli, says that judges rejected all the complaints. The same 33 people sent complaints to prosecution agencies, but prosecution agencies did not find any criminal wrongdoing.
Azerbaijani rights activist Kamala Aghazadeh believes that lawsuits will not produce results while the country has no law defending LGBT people from discrimination. "Society absolutely needs a law that would guarantee the protection of LGBT rights," she said. Perhaps, the adoption of such a law would remove Azerbaijan from the list of the most homophobic European countries which Azerbaijan has led for four consecutive years now.
A month after the raids, the Council of Europe Commissioner for Human Rights Nils Muižnieks sent a letter to Azerbaijan's Interior Minister in which he called for "thorough investigations into serious allegations of human rights violations of LGBT persons recently arrested and detained in Baku".
No reaction followed from the Azerbaijani government.
Four suicides and five murders
Samad Ismayilov, the director of Minority Azerbaijan magazine, said that four LGBT people committed suicide in Azerbaijan in 2017. Ismayilov said that specialized organizations recorded five murders which presumably were anti-LGBT hate crimes over the year. He said those were average annual figures.
"However, these are only cases that we have managed to learn about. In reality, there are many more crimes of this kind," he said. According to Ismayilov, activists were not able to find out even an approximate number of members of the LGBT community in Azerbaijan because most people hid their sexual orientation.
Samad said no raids or large-scale assaults on gays had been recorded in Azerbaijan in 2018, but several trans people were at the police station the other day. "They were summoned to the police, asked several questions and released. However, we do not understand the reason for this interest, nor did we understand it last year," Samad said.
---
Produced with the support of the Russian Language News Exchange