TURKISH MAN SINGS "ROCKABYE: WITH ANNE MARIE ON STAGE
Share Your Thoughts via Facebook
The true price of Azerbaijani cotton
The fall in oil prices during the last few years has forced the government of Azerbaijan to seek alternative revenue sources. Baku placed its bets on cotton, without heeding the consequences – human rights violations, rising costs of agricultural produce and even the threat of boycotts by major buyers. After the mass poisoning of cotton workers this summer, Meydan TV reporters started to wonder: what is the price this country has to pay for growing cotton?
Criminal proceedings after poisoning allegations
"We all started to have bad stomachaches, then foam came out of our mouths. We got scared and left the field. Those who were not affected took us to a hospital," recalls Gulnara Gardashova.
The 33-year old is one of the Azerbaijani cotton workers who was poisoned while working on the fields this summer. There are said to be hundreds of people like her, though the government is concealing the actual scale of what is happening.
On 10 July, 25 other people were poisoned along with Gulnara, working on cotton fields in the village of Simada in the southwestern Saatli district.
"Before we started working, the farmer told us that he had sprayed the soil with a chemical two weeks earlier, and that it was safe to resume work after two days. But it seems that the effect of the chemical lingered."
Gulnara and the others affected were taken to the local hospital. She said their condition was taken seriously, which is why they were sent to the Clinical Medical Center in Baku.
When talking to reporters, Azer Magsudov, head of the clinic's Toxicology Department, confirmed that those affected were feeling "lightheaded and sick" but rejected the suggestion that this was due to poisoning. He did not specify what caused the symptoms. Similarly, doctors in other hospitals who treated the patients with the same symptoms told journalists that the cause was excessive exposure to the sun, not poisoning due to pesticides.
The Azerbaijani Prosecutor General's Office has launched criminal proceedings into negligence by officials and potential violations of procedures in combatting plant diseases and pests. On 10 August, the Prosecutor-General's Office said it had completed a preliminary investigation in the criminal case regarding 10 people – agronomists, heads of centers for the protection of plants, and other officials. All of them have been charged with violating occupational health and safety rules, and their cases have been passed on to courts in Saatli, Imishli and Tartar districts.
Scale of poisonings remains unclear
There is no official information about the number of people affected. Media reports and eyewitness testimonies suggest that there have been at least 400 cases this summer alone. Among the victims are children, who often help their parents on the fields. In Saatli, a Meydan TV correspondent saw three teenage girls weeding a cotton field.
So far, the poisonings occurred in four districts: Imishli, Saatli, Tartar and Yevlakh.
In June, around 80 cotton workers were poisoned working on fields in the Imishli district. Since the official narrative of sunstroke had not yet been established, the head of the local hospital, Eynulla Gasimov, shared his assessment freely:
"In Soviet times, people used to get poisoned by pesticides. Such incidents still happen today, and this is one of them."
The main buyers and distributors of pesticides are agro-industrial unions. Since they are controlled by the government, it is difficult for journalists to obtain information about the specific types of pesticides used on the fields.
In a recent investigative report, Ifact.ge published pictures of chemical containers found on Saatli cotton fields. They contained Rifle 48 EC, which contains the herbicide Trifluralin. The EU banned it ten years ago, but it is still permitted in some countries – including the United States and Turkey – provided that workers spraying it wear protective clothing.
Other pictures show empty chemical containers scattered around fields in Imishli. The labels indicate that the farmers used domestic pesticides made by the Azerbaijani Gilan Holding.
An OCCRP investigation recently revealed a link between Gilan Holding and the daughters of the Azerbaijani president, Arzu and Leyla Aliyeva, who are its main shareholders.
Agrarian expert Vahid Maharramov believes that it will the source of the pesticides will remain a mystery.
"Those guilty of what happened are so powerful that law-enforcement agencies are not in a position to deal with them."
The area of land on which Gulnara Gardashova and 25 other cotton workers were poisoned belongs to farmer Latif Khalidov.
Farmers used to buy pesticides for their fields without knowing about potential health and safety risks.
"We are ordinary people. We do not know what kind of chemical this is, if it is safe or not, we were not warned when we bought it. We saw that it did not have any effect on the weeds after we sprayed it, so we decided to clear the field of weeds manually. We hired some workers, and this is the result."
After the first mass poisonings, cotton workers started to be more careful. Workers told reporters in Saatli that now, they ask if a pesticide has been sprayed, and if so, they refuse to enter the field.
"Farmers sow cotton out of fear of losing their land"
Lawyer Khalid Bagirov believes that violations of labor rights are particularly common in the agricultural sector: "People do not have labor agreements and they never have insurance. A person who spends the entire day weeding cotton fields under the baking sun makes eight to ten manat (four to five euros)."
But not all cotton workers are paid. In the past few years, employees of public-sector organisations and students had to work on cotton farms without getting paid. Economist Natig Jafarli says that the state not only forces citizens to work on fields for free (which is illegal) but also urges farmers to sow cotton:
"As a result of the land reforms, land in Azerbaijan has long become private property. However, in 2016, as a result of the referendum and under the pretext of efficient land use, the state imposed restrictions on the right of ownership. Executive authorities abuse these changes to legislation and make farmers sow certain products. Most farmers sow cotton out of fear of losing their land."
Economist Togrul Mashalli believes that the government's interventions in cotton-growing decreases the industry's output and profitability. In 2017, the per hectare output actually decreased compared to the previous year, falling from 1,730 tons o 1,510 tons, despite all the efforts.
"When the executive authorities are forcing the farmers to sow cotton, the farmers either do not know how to increase their output, or what kind of pesticides they should use. Consequently, they fail to produce quality output, and they don't make a decent profit either."
Natig Jafarli does not believe that profit is the government's main goal. "They view cotton-growing as a social project. Their aim is to create a lot of jobs, even if those jobs are paying low salaries, because they want to reduce social tension in the regions."
In Azerbaijan, the official unemployment rate is just 5%, but analysts dispute those numbers. They say that the very methods used to calculate it do not conform to international standards, and therefore do not reflect reality.
For many Azerbaijanis living in the regions, the economic situation leaves no other choice. Most of the cotton workers who were poisoned have now returned to the fields. Some say they are still unwell but must work to provide for their children. One of the women, Hagigat Mammadova, says that after she was poisoned, her arm went numb and she is now unable to weed.
"Now I do not have an income, and nor do I have money to continue my treatment," she complained.
A threat of boycott?
During the Soviet years, Azerbaijan successfully grew cotton. The industry declined in the 1990s, but recently underwent a renewal. Three years ago, the government indicated that cotton could become an alternative to energy after the decline in oil prices and declared cotton a strategic industry. Last year, the president issued a decree saying that output should grow to 500,000 tons a year by 2020.
The key buyers of Azerbaijani cotton are Turkey and Russia. Exports are growing: in 2016, the country exported 89,400 tons of cotton worth 24 million dollars and 207,000 tons worth 52 million dollars in 2017.
For cotton to grow, land is needed, and the numerous cotton plantations in Azerbaijan have already caused a noticeable reduction in pastures.
Agrarian specialist Vahid Mahharamov estimates that a total of 50,000 hectares of pastures are being used as cotton fields, while the import of animal products into the country has tripled in the past two years. This has caused prices of staple products like meat, milk, herbs and melons to shoot up; people are paying three times as much as they used to.
Cotton Campaign coordinator Kirill Boychenko has described how the cotton industry works in Uzbekistan and Turkmenistan:
"In Uzbekistan, the government sets quotas for the production of cotton. Farmers who do not own land but lease it from the government are obliged to grow and sell cotton for low prices that do not match actual market costs. Each year the government forces students, teachers, medical workers and other public and private sector employees to collect cotton, and makes farmers fulfill the output norms. If they refuse, they are punished. In Turkmenistan, the situation is even more difficult. In addition to forcing adults, they are also relying on children. According to international conventions and recommendations, cotton-growing is a poisonous activity, and child labor is not acceptable."
Cotton Campaign was established in 2005 to eliminate forced child labor in Uzbekistan and Turkmenistan. According to Boychenko, about 300 companies including major world clothing brands have already refused to buy cotton from these countries because of child labor. Starting in 2018, the United States banned cotton imports from Turkmenistan.
"I really hope that Azerbaijan will not go along the same path", concludes Kirill.
Share Your Thoughts via Facebook
Baku vox pop: What moment in your life would you most like to relive?
Share Your Thoughts via Facebook
Maduro 'survives drone attack'
Venezuelan officials say explosive drones went off as President Nicolás Maduro was giving a live televised speech in Caracas, but he is unharmed.
Communications Minister Jorge Rodriguez said this was an attempt on Mr Maduro's life and seven soldiers were injured.
Mr Maduro was seen speaking at an outdoor military event when he and other officials suddenly looked upwards – startled. The audio then cut off.
Dozens of soldiers were seen running away before the broadcast was halted.
Loud bangs could also be heard in the footage.
What do officials say happened?
Mr Rodriguez said the attack happened when Mr Maduro was speaking at the event to mark the 81st anniversary of the Venezuelan army.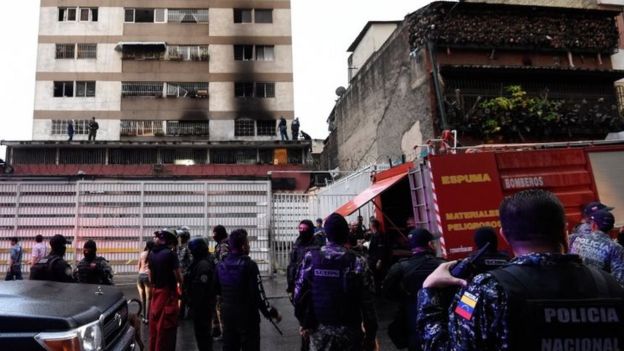 Two drones loaded with explosives went off near the president's stand, he added.
The minister accused the country's right-wing opposition of carrying out the attack.
"After losing the vote, they failed again," Mr Rodriguez said.
He was referring to May's presidential elections, where Mr Maduro was re-elected for another six-year term.
Mr Rodriguez also said that the injured soldiers were being treated in hospitals while the president was meeting his ministers and military commanders.
No group has said it was behind the alleged assassination attempt.
In June 2017, a helicopter attacked and dropped grenades on Venezuela's Supreme Court.
Oscar Pérez, a rogue elite helicopter pilot, claimed he carried out the helicopter attack and called on Venezuelans to rise up against the government of President Maduro.
He was killed by police in a siege near Caracas in January.
Who is President Maduro?
Mr Maduro has managed split opinion almost as much as his predecessor in office, Hugo Chávez.
Since assuming office in 2013, Mr Maduro's administration has drawn widespread condemnation from a string of nations worldwide for undermining democracy and violating human rights in his country.
His opponents paint him as a ruthless despot who detains his political rivals on overly harsh charges pressed by a judiciary under his party's control, while his followers say he is protecting the country from another coup.
His re-election in May came amid a deep economic crisis which has been driving hundreds of thousands of Venezuelans from the oil-rich country.
However, there is still a loyal core of people who support Mr Maduro and his United Socialist Party (PSUV), saying Venezuela's problems are caused not by the government but by imperialist forces such as the US.
Share Your Thoughts via Facebook