AZERBAIJAN ASKS BETTER DEAL FROM FORMULA 1
The Azerbaijan GP organisers have asked Formula 1 chiefs for a reduction in the race sanction fee it pays from 2021 onwards.
The event currently pays one of the biggest fees of any race on the calendar, a move that was necessary to convince Bernie Ecclestone to give it his blessing and convince the F1 teams that Baku would be financially worthwhile.
Ecclestone agreed a 10-year deal, with a break clause after five years.
Having run three races thus far, Azerbaijan is committed to the current arrangements for the next two years, which will see out the first half of the original contract.
However, it wants to have a more favourable deal for the second five-year term from 2021 to 2025.
The push for a better price comes in the wake of a similar move from Hockenheim, whose contract to host the German GP in alternate seasons ends this year, and the news that the Miami GP will have a new style of risk and revenue sharing deal.
"We have a contract which is a binding contract for five years, for five races, starting in 2016," said Azerbaijan promoter Arif Rahimov. "Neither of us can break it unless we agree to break it.
"We haven't triggered the break clause. We're negotiating on the second part of the contract. We all know we need to improve bits, so we're trying hard to make sure that it's good for us and good for F1."
Since Liberty came on board, more information about what races pay has emerged, and thus promoters have a better idea of what other events typically pay,
"In general we want to be close to the average. Now that it's public information I think everyone knows what the average is," added Rahimov.
"You have a few outliers to remove from both ends, statistically speaking, but obviously we want to be close in that mid-range of flyaway races.
"We cannot just take the average of all the races, because European races pay less for a lot of reasons, starting from logistics and cost of operation etc.
"But we do definitely want to be there in the average of the flyaway races, That's not the only thing we're discussing with FOM, it's most of the other commercial terms in the contract too. They want to try a new approach, it's a bi-lateral effort to make it viable for all of us.
"We will try to get it sorted before the end of June, so I think we'll come to some agreement. Obviously I'm asking for an improvement which is eating into their profits, it's quite obvious."
Rahimov was keen to dispel rumours that the arrival of the Miami GP in 2019 could lead to Azerbaijan being dropped to make way, with some even suggesting that the Baku pit and paddock infrastructure would be shipped to Florida.
"If Miami comes in it can come in and all the other races can stay there. It's up to 22 races anyways.
"I think it was just a rumour, I don't know how this rumour got spread, because it made no sense from the beginning. I guess they're going to release the draft calendar this month of next month.
"We're going to be in this calendar, and I guess it's going to sort out most of the questions."
Azerbaijan is also keen to return to June in 2019 after this year's race was switched to April.
"We want to move back to June. It takes us a while to set up the circuit, it takes us three or four months, and if we are in April we have to start in the winter, and you have adverse weather, rain and wind and everything that stops you working efficiently, so we definitely want to move it to June."
Raptors have no excuse not to make NBA Finals – Stephen A. | First Take – ESPN
Published on Dec 13, 2018Stephen A. Smith says the pressure is on the Toronto Raptors to make the NBA Finals because of the addition of Kawhi Leonard and the level of success the team has seen this season.✔ Subscribe to ESPN on YouTube: http://es.pn/SUBSCRIBEtoYOUTUBE✔ Subscribe to ESPN FC on YouTube: http://bit.ly/SUBSCRIBEtoESPNFC✔ Subscribe to NBA on…
Washington Redskins defensive captain slams team, fan base in leaked conversation – Fox News
Mason Foster slammed the team and the fan base in a leaked conversation with a fan on Instagram. (AP Photo/Michael Perez)Washington Redskins defensive captain Mason Foster cursed out his team and its fan base in a leaked Instagram conversation with a fan Tuesday.Foster told the fan, "F— this team and this fan base," according to ESPN."Yeah…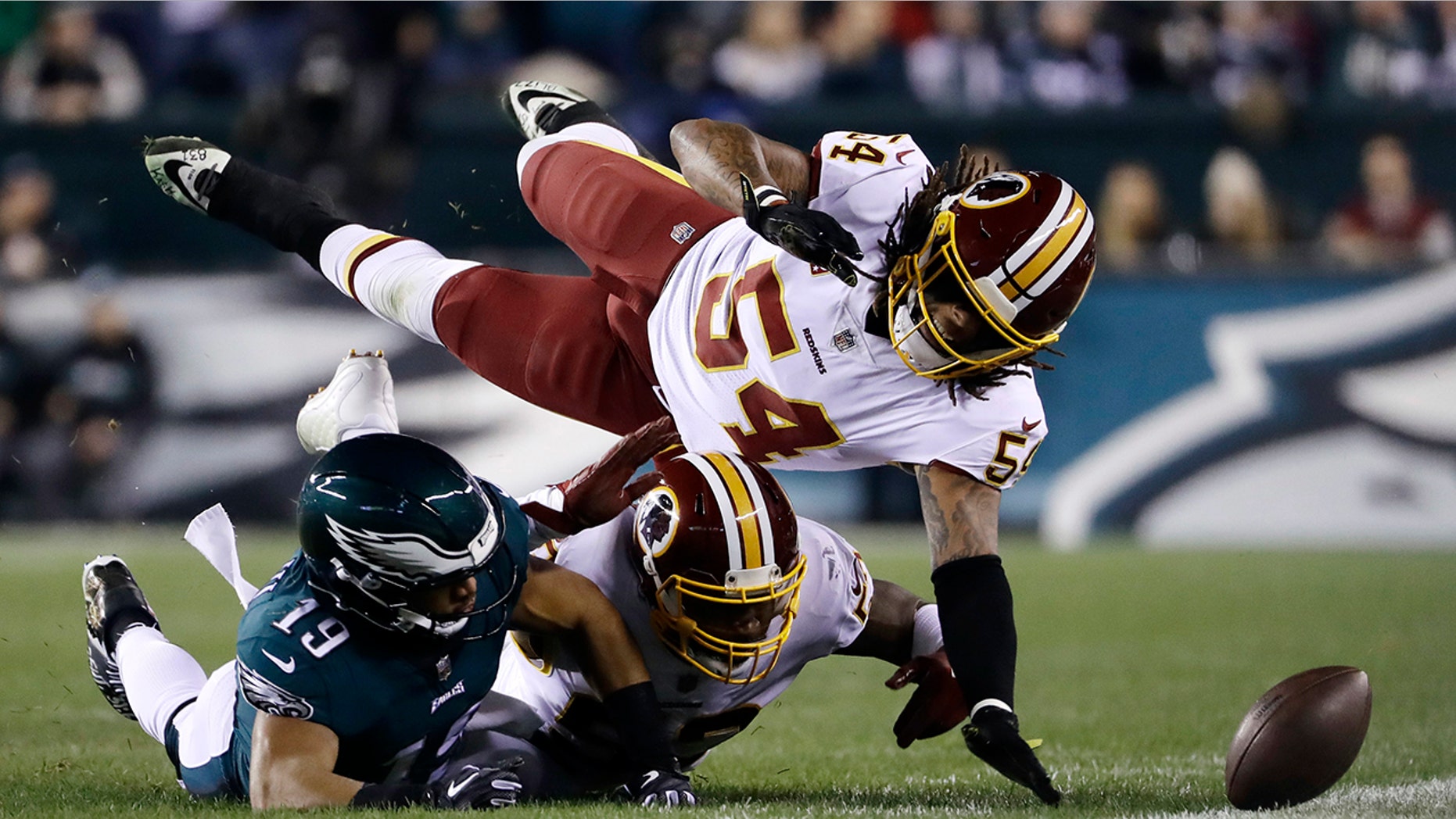 Mason Foster slammed the team and the fan base in a leaked conversation with a fan on Instagram.
(AP Photo/Michael Perez)
Washington Redskins defensive captain Mason Foster cursed out his team and its fan base in a leaked Instagram conversation with a fan Tuesday.
Foster told the fan, "F— this team and this fan base," according to ESPN.
"Yeah and I'm not f—in wit it or being a scape goat to make fans feel better about all these big money ppl who ain't playin or getting dogged out," Foster wrote. "Yeah I'll try my chances and go to a winning team next year … love the redskins but this ain't it for the African #LOVE"
Coach Jay Gruden downplayed the incident while speaking with reporters Wednesday, saying the message exchange was private and should not have been leaked.
"I really don't even care," Gruden said. "It's a private message. I know Mason and how hard he's worked and how hard he plays. I know he wouldn't say anything publicly to do that. That was a private deal. He could've been messing around. I don't know the intent of that message; I don't really care."
The outburst by Foster coincides with the team's recent struggles.
Washington has lost five of its last six games, culminating in a 40-16 pounding by the New York Giants on Sunday. The Redskins also lost starting quarterback Alex Smith and backup quarterback Colt McCoy for the rest of the season due to injuries and the team was embroiled in a controversy of its own making when Redskins officials claimed linebacker Reuben Foster, who had been accused of domestic violence for a second time.
Champions League XI: Mo Salah and Leroy Sane lead team of the week – ESPN
6:26 AM ETNick AmesESPN.com writer The Champions League's best performers from this week. OtherThe Champions League group stage is over, but who were the stars of the final group stage games? Here's the best XI from Matchday 6.Goalkeeper — Alisson (Liverpool)Jurgen Klopp called Alisson's late save from Arkadiusz Milik a "lifesaver" and, in football terms, it…
6:26 AM ET
Nick AmesESPN.com writer
The Champions League group stage is over, but who were the stars of the final group stage games? Here's the best XI from Matchday 6.
Goalkeeper — Alisson (Liverpool)
Jurgen Klopp called Alisson's late save from Arkadiusz Milik a "lifesaver" and, in football terms, it was no exaggeration. The goalkeeper made himself big to block Napoli's glorious late chance from a matter of yards, sending Liverpool through and proving once again that the £65m they paid Roma in the summer was money well spent. These days Liverpool look far more secure in defence and Alisson, who had not exactly been stretched in the previous 92 minutes, is a huge reason for that.
Right-back — Cristiano Piccini (Valencia)
Piccini's marauding runs put an insipid Manchester United on the back foot in their defeat to Valencia — and perhaps this display will kickstart his career in Spain after a slow start since arriving from Sporting Lisbon. He comfortably had the better of United left-back Marcos Rojo, to the extent that the Argentinian was replaced at half-time. Piccini was also involved in Carlos Soler's deadlock-breaking goal and can reflect on a fine night's work.
Centre-back — Brandon Mechele (Club Brugge)
Keeping Antoine Griezmann and company out for 90 minutes is no easy task but Mechele, anchoring the Belgian side's three-man central defence, helped them do exactly that in the 0-0 draw which consigned Atletico to second place in Group A. Brugge will play in the Europa League after Christmas and, given their showings during the group stage, should be competitive. They gave little away against a frustrated Spanish side.
Centre-back — Trent Sainsbury (PSV)
Sainsbury only made one appearance for Inter Milan during a loan spell with the Nerazzurri in 2017 but made a bigger impact on his return to San Siro with PSV. The Australian, making his first Champions League start for the club, marshalled an excellent defensive effort that brought a 1-1 draw and led to the Italian side's unexpected exit from the competition.
Left-back — Georgi Schennikov (CSKA Moscow)
How would you feel today if you were a CSKA Moscow fan? On the one hand their 3-0 win at the Bernabeu was, even against a weakened Real Madrid, a sensational result and completed a "double" over the serial Champions League winners. On the other, they still finished bottom of Group G without even a Europa League place for solace. All the same, moments like Schennikov's goal — as he ran onto a rebound to volley his side's second goal past Thibaut Courtois — will be cherished for many years.
Central midfielder — Arnor Sigurdsson (CSKA Moscow)
Is Sigurdsson Iceland's next superstar? On this evidence he has a chance. The 19-year-old was brilliant at the Bernabeu, teeing up Fyodor Chalov's opener before rifling in a brilliant third himself. He was a constant, scheming menace with his sharp runs and astute positioning, doing enough to suggest that appearances on this stage will rapidly become the norm. Whether they will be with CSKA or another club is another matter.
Central midfielder — Moussa Sissoko (Tottenham)
Sissoko's transformation from boo-boy into Spurs fans' cult hero is remarkable in one sense but, in another, further proof of Mauricio Pochettino's unwavering belief in developing his players. He was exceptional at Camp Nou in Spurs' decisive draw, covering every blade of grass and helping the Premier League side claw their way back into a game that appeared to have been lost.
Central midfielder — Dusan Tadic (Ajax)
Tadic has been sensational since his surprise summer move to Ajax. His 15th and 16th goals of this campaign, one a tap-in and the second a penalty, crowned another superb all-round performance and helped the Dutch side to a 3-3 draw against Bayern in arguably the best game of this season's group stage. Ajax are on the rise and will be awkward opponents for whoever they face in the round of 16.
The FC team examine the list of teams that Liverpool could face in the UCL round of 16 and who they'd match up best against.
Right forward — Mohamed Salah (Liverpool)
It is only a few weeks since some critics were doubting Salah, asking whether he could possibly maintain last season's levels after a slower start to this campaign. He is back to his best now and fired Liverpool past Napoli with a trademark mix of power and ingenuity, bursting explosively into the box before deceiving David Ospina, who had been expecting a cross, and slotting low into the net from an angle.
Centre-forward — Guillaume Hourau (Young Boys)
In the long run, Juventus will lose little sleep over their 2-1 defeat by Young Boys in Switzerland but it may live longer in the memory of the veteran striker Hoarau. He squeezed a first-half penalty past Wojciech Szczesny and then slotted home an impressive individual effort to complete a slick counter. Not bad for a player who turns 35 in March, and a reminder of the gifts that saw him capped by France earlier in the decade.
Left forward — Leroy Sane (Manchester City)
Sane is getting back to his irresistible best and scored two supreme goals to fire City past Hoffenheim. The first, a 30-yard free kick struck with power and precision into the top corner, levelled things up in first-half stoppage time; the second, a cool finish from a rapier-like counter-attack that saw him exchange passes with Raheem Sterling, won it for Pep Guardiola's side. It also showed that one of the world's most exciting wide men is on top of his game once again.